Lunch Meeting: Volusia County's Veteran Services Division's Mission
Date:
Thursday, May 18, 2017
Location:
Hilton Holiday Inn, LPGA
Speaker:
Jeff Bump, Director, Veterans' Services, Volusia County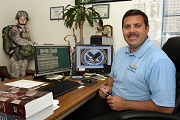 Lunch Meeting: Lunch will be Served
Jeff will discuss Volusia County's Veteran Services Division's mission and how they assist all former and present members of the Armed Forces and their dependents in preparing claims for compensation, hospitalization, vocational training and other benefits and privileges to which they are entitled under federal and state laws and county regulations. Some of the services provided include assist in filing: Compensation benefits, Pension benefits, Vocational rehabilitation, Educational benefits for veterans and dependents, and medical enrollment.
Please join us for an educational lunch to learn more.
Jefferey L. Bumb
Director of Veterans Services for Volusia County
Jeff served twenty years in the United States Army, retiring at the rank of Sergeant First Class and spending the majority of his career with the 101st and 82d Airborne Divisions. He deployed to the Gulf War, Afghanistan and Iraq. His awards and decorations include the Bronze Star, the Meritorious Service Medal, and the Army Commendation and Achievement medals. He was a qualified Jumpmaster and earned the Senior Parachutist badge and also the Air Assault badge.
Since retirement from the military in August, 2008, Jeff has been employed by Volusia County Veterans Services and has been an active leader in the Veterans of Foreign Wars, the American Legion, and the 82d Airborne Division Association. He also proud to have served as a committee member for Volusia Honor Air.
He holds a Bachelors of Science degree in Business Administration from Columbia Southern University and currently resides in DeBary, Florida.
Guests are always Welcome! You need not be a Member.
Cost:

Free to Members who have renewed for 2017. RSVP still Required.

$25 Guests
Reservations:

If you have any questions, please feel free to contact us at
rsvpnow@epcfuncoast.com
or call Jane Eddy at 386-453-5934 or use the
new "Register Now"
Blue Button below...