Probate
Date:
Wednesday, September 20, 2017
Location:
Halifax Yacht Club on S Beach St, Daytona Beach
Speaker:
Judge Margaret W. Hudson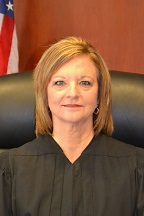 Circuit Judge Margaret W. Hudson was appointed to the bench in 2006. She earned an undergraduate degree from Wake Forest University and a juris doctor from the University of Florida. Before becoming a judge, she worked for the U.S. Department of Justice, United States Trustee's Office in Orlando. She was also in private practice. Judge Hudson has heard civil, juvenile dependency and dependency drug court cases. She currently presides over probate and guardianship cases at the Volusia County Courthouse in DeLand and the Kim C. Hammond Justice Center in Bunnell.
This forum will be a great opportunity for professionals in the Estate Planning arena as well as the general public to better understand the role of the local probate court in settling estates, caring for incapacitated persons while protecting their civil liberties and helping to prevent elder abuse. If you would like to submit a question for Judge Hudson, please email
Reservations:

If you have any questions, please feel free to contact us at
rsvpnow@epcfuncoast.com
or call Jane Eddy at 386-453-5934 or use the
new "Register Now"
Blue Button below...