Holiday Social at Houligan's!
Date:
Thursday, November 29, 2018
Location:
Houligan's, 1725 W. International Speedway Blvd., Daytona Beach, FL 32114, First Floor Private Dining Room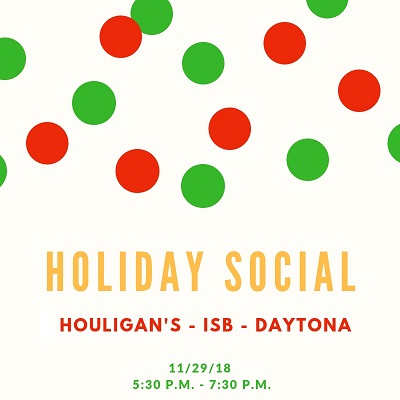 Come enjoy light appetizers and confections as we celebrate the holiday season with friends and colleagues! We will also be installing the 2019 board.
Members and guests will be able to order drinks and dinner on their own if they so choose in our own private dining room.
See you there!
Free to 2018 Members - Guests $20
Reservations: If you have any questions, please feel free to contact us at rsvpnow@epcfuncoast.com.
You can RSVP now by clicking the Blue "Register Now" button
Please RSVP by Nov. 21st, 2018
Now Accepting Credit Cards via PayPal. Use the "Register Now" Button