The SECURE Act – How will it affect both Retirement and Estate Planning? The impact on both individuals and small businesses.
Date:
Thursday, February 20, 2020
Location:
Hilton Garden Inn Palm Coast Town Center
Speaker:
Justyna Mueller, CPA of James Moore, Certified Public Accountants and Consultants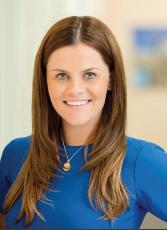 Justyna is a tax manager with numerous years of experience assisting clients with accounting, QuickBooks, tax planning and tax compliance. Her focus is on estates and trusts, offshore reporting, taxation of foreign individuals and corporations who invest in the United States, and taxation of U.S. citizens working abroad. She also works extensively with real estate owners and investors, startup companies, and entrepreneurs and serves as an integral member of the Real Estate Services Team. She graduated from Stetson University and currently serves on the board as the Treasurer for the Florida Institute of Certified Public Accountants. She is also a Vice President of the Daytona State College School of Business Administration Advisory Board.
Setting Every Community Up for Retirement Enhancement (SECURE) Act of 2019 will have a significant impact on how we help our clients prepare for retirement and structure their Estate Plan.
For individuals this law impacts Required Minimum Distribution age, the ability to contribute to an IRA after 70 ½, the ability for heirs to "stretch" an inherited IRA, changes to the 529 rules and more. For small business owners it changes Small Employer enrollment credits, Simplification of Safe Harbor rules, allowing Part-Time workers to participate in 401(k) plans and more.
Join us as we discuss how this new law will impact current and future retirement and estate planning. We welcome the community to join us and learn more about how these changes may impact you.
James Moore, Certified Public Accountants and Consultants Link
Cost: $25 if you RSVP by Friday February 14th | $30 after February 14th
Members are free, but must RSVP. A $10 Member Fee will be assessed if you do not RSVP by Friday February 14th.

Reservations: If you have any questions, please feel free to contact us at rsvpnow@epcfuncoast.com.