Member Directory
Alyson Morelli

, Esquire

Attorney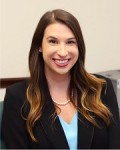 Astrid de Parry, P.A.
107 East Church St
Additional Information:
Member Since 01/2019
Biography
Alyson G. Morelli was born and raised in Ormond Beach, Florida. Ms. Morelli attended Florida State University and graduated cum laude with a bachelor's degree in economics. Upon graduation, Ms. Morelli attended Florida State University College of Law and became a double Seminole.
While in law school, she was a member of the Florida State University Law Review and served as assistant articles and notes editor for the Journal of Transnational Law & Policy. Ms. Morelli served on the executive board of the Real Property, Probate and Trust Law Society all three years as 1L representative, vice president and president. During her term, Ms. Morelli implemented networking events and a mentorship program for members.
During her first two years of law school, Ms. Morelli also served in leadership roles for the Women's Law Symposium and she earned the distinguished pro bono certificate for her service with FSU Law's Alternative Spring Break Program in Immokalee, Florida. Ms. Morelli participated in the Oxford University Study Abroad Program the summer after her 1L year. Ms. Morelli graduated cum laude from Florida State University College of Law and earned the Business Law Certificate with honors.
Since returning to Volusia County, Ms. Morelli has become involved in the community as a member of the DeLand Rotary Club, a volunteer at Great Kids Learning Center and a member of the Volusia County Bar Association.
Return to Member Search Results