Member Directory
Diana Minotti
Associate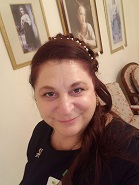 Diana Minotti Fine Art, Antiques & Collectibles
15D Palm Harbor Village Way
Additional Information:
Diana Minotti USPAP Qualified Appraiser & IRIS Certified Stager Diana Minotti Fine Art, Antiques & Collectibles Specializing in Liquidation of Consignments & Estates. Also a member of the Antiques and Collectibles National Association and American Society of Estate Liquidators.
Diana Minotti Fine Art is a woman owned business established in the New York City Metropolitan Area in 1993. The business began as a Fine Art Service assisting Architects, Interior Designers and Facility Managers in Art Acquisition, Framing, Delivery, Lighting, Mounting and Installation. In times of a down economy Appraisal and Liquidation services flourished. Diana Minotti and her husband Perry relocated to Palm Coast, Florida in 2005 with their son, Joseph who was just 18 months old to be near family.
After settling in and enjoying their custom built home, Diana began to explore and participate in many community organizations starting with the Palm Coast Mom's Meetup Group and the Italian-American Social Club, then the Palm Coast Flagler Foundation of Art and Entertainment and the Flagler County Art League. She became an avid visitor of the Flagler County Public Library, Flagler Auditorium as well as the city (Holland Park and Sesame Park) and county parks (Washington Oaks and Princess Place Preserve) and beaches (Flagler Beach and Jungle Hut). Ms. Minotti was thrilled to find places of significant historic merit such as Fort Matanzas, Bulow Plantation, Marineland and the Florida Agricultural Museum. Excited to learn through the Palm Coast Historical Society and the Flagler County Historical Society interesting facts about the beginnings of Bunnell, Espanola, Favoretta, Flagler Beach, the Hammock and Palm Coast. As eager to learn about her new surroundings Diana is as enthusiastic in educating the community.
Back in New York Ms. Minotti was an Adjunct Art Professor conducting classes in the foundations of drawing, painting and art history. Today with no corporate clients in reach, Diana has found a new niche - Estate Sales utilizing all of her curatorial skills in Inventory, Appraisal, Staging, Marketing, Sales and Liquidation. With great respect and professionalism Ms. Minotti and her experienced and courteous staff treat family's possessions with ultimate care and provide important guidance of proper liquidation whether through an estate sale, private dealer, auction or Ebay sales.
This service has been a wonderful resource to Realtors, Estate Planners and especially to family members who reside out of town and don't have the ability to handle the liquidation of contents of a home nor the preparation of selling a home. Decluttering, Staging, Cleaning and Repairs as well as Relocation and Liquidation Services are available. All of these service fees can be deducted from the Estate Sale proceeds without out of pocket expenses from the homeowner, Executor or family members. Diana would love to relaunch her Art Appreciation Slide Lecture Series for area Collectors and Dealers which was a very successful program in New York followed with related tour services which was also popular for she was a licensed NYC Tour Guide conducting Luxury Limousine Guided Art Tours each tailored to a client's interests.
Come and visit an Estate Sale presented by Diana Minotti - it's more than just a garage sale, its an experience of all of the senses: music, art, education, display and exhibition with reasonable prices.
Return to Member Search Results